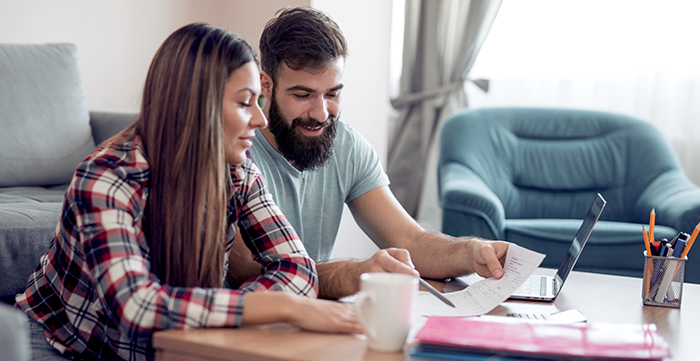 How are you with spreadsheets? Are you an expert who can write formulas with the best of them? Or are you helpless and hopeless? Someone sends out a family spreadsheet full of contact information and you cannot figure out how to add your new email address to the form without messing up all of the formatting. If you fall into the latter category there is hope. Our MoneyCentral tools are geared toward helping you budget better and more detailed without needing to be an Excel guru. Here's how…
First, let's look at Income.
If you're detailing this out on a spreadsheet create a separate line item for every income source that's a regular item in your month-to-month budget. Don't forget to include distributions from investment accounts, or if you're retired, distributions from your retirement accounts. Create a total line so you have a starting point for budgeting out expenses.
If you're using our MoneyCentral Platform use the Cashflow feature to set up recurring events, like paychecks, so you know what dates you'll be receiving income and how much. If you're paid hourly, try to use an average income since this can fluctuate from week to week.
Next, let's take a look at Required or Fixed Expenses.
For the spreadsheet queens/kings: next, you'll set up a section for regular expenses. Make sure you detail all of your monthly bills including utilities, fuel purchases, health and medical expenses and anything else you might spend money on during a regular month. Total these up at the bottom of this section and then create a row below where you can subtract your expenses from your income. Try to keep your fixed monthly expenses to half, or less, of your gross monthly income.
MoneyCentral users should use the Budgeting tool to set up spending targets. Use your monthly average expense for a specific category as a guide for how much each spending target should be. Then, use the transaction dashboard to categorize payments to certain retailers so they flow into those spending targets. Your spending targets might be Groceries, Utilities, Fuel, Medical, Mortgage/Rent, Child Care, Loan Payments, etc.
After that, take a look at your Optional Expenses.
Sometimes referred to as discretionary expenses, these are purchases you make that are not required for daily life. For instance, I have clothing retailers identified in MoneyCentral and then I have a spending target set up for those type of purchases. I get an email alert when it's time to quit spending for the month, that way I can be more careful to stay within my means.
If you're a spreadsheet user, you've probably already guessed what's next and created a section for additional expenses. Ideally these are not recurring expenses. If you donate to a charitable organization or church on a regular basis you may want to include regular disbursements in the Fixed category instead of the Optional. Don't forget to create a total for this category, and — you guessed it! — subtract that total from the last total you calculated.
Don't forget to include cash withdrawals, like ATM visits, in this category since the cash you're spending is likely going to a discretionary purchase and not your regular monthly bills. Entertainment expenses, gym memberships and even eating out should also fall into this category since those are things that could fluctuate, or you could do without.
Last, make sure to include Other Annual Expenses.
Did you start the income section of your spreadsheet with gross income? Or net income? Gross income is the amount you're paid pre-tax. This means you're not factoring in things like health insurance, 401(k) contributions and taxes. It also means you need to create a section for these expenses in your spreadsheet. If you like to look at the big picture, go back and add gross income to the top of the spreadsheet and then create a category for the things that come out of your paycheck before you get it. It's good to be in the know, and it's also beneficial for some of these expenses to come out of your paycheck if there's an option to pay them pre-tax. That means you're paying fewer taxes in the long run.
If you started with Net Income, or you are using MoneyCentral, these expenses are not included in your monthly income that is being pulled into your account transaction history. So, you could (in theory) omit them from your calculations since they are already removed from your income. If you like to keep an eye on these types of expenses, review your paystubs regularly to watch how much money is coming out of your paycheck.
Did you remember to save?
If you're looking at your spreadsheet there will be the total you're left with each month that you can transfer to savings or put into something like a Roth IRA, CD, savings account, or other type of investment account. In MoneyCentral, it might be the amount left over in your checking account after all the bills have been paid.
It is generally a good idea to "pay yourself first," by figuring out how much you need to save each month and then adding that into your expenses. However, if you've never budgeted before and don't have any idea how much your monthly expenses are each month, you could do what we've done here and wait to see how much is left over at the end of your month. If you're left with nothing, it might be a good idea to go back and review the non-essential expenses and make room for savings. And, remember, you should have six months' worth of expenses in an emergency fund before you start to put money into investments, especially investments that have some level of risk involved in the return. Check out previous blog articles where we share different budgeting methods http://blog.centralnational.com/2019/07/5-personal-budget-methods-you-should-check-out/ or tips for selecting a budgeting tool http://blog.centralnational.com/2020/09/tips-for-selecting-a-budgeting-tool/.
Finally, you'll end up with a Net Worth amount.
MoneyCentral users should take the opportunity to go check out the Net Worth tool. If you've added accounts from other institutions, as well as things like your mortgage and other debts, you should have a pretty clear picture of where you stand financially. If you don't have those accounts added using the aggregation tool, then keep them in consideration when reviewing your net worth. Don't forget to check out the Retirement planning tools in the system before you log off. You can set savings goals as well as set up alerts, which is very helpful when planning for the long-term.
Need help with MoneyCentral? Check out our instructional videos and guides on our website for more information at https://centralnational.com/whycentral/moneycentral.asp/. If you're still struggling, please contact your local banker for assistance.