Not that long ago customers were hesitant about paying bills online. Many people did not trust internet transactions because they could not verify the security of them, so paying bills online seemed risky. Thankfully, over time, people have realized that electronic bill pay is quite secure and many are warming up to paying bills online. If you're holding out, and still uncertain about online bill pay, here are the top 7 reasons to use it: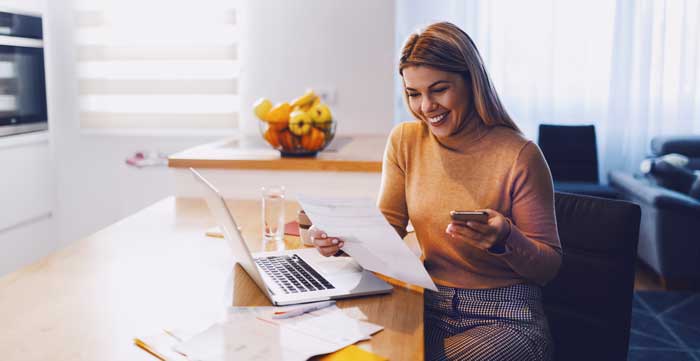 Convenience
Making your monthly bill payments through Central's online bill pay feature makes it convenient to pay all of your bills from a central location (ha, get it? "Central" location?). You do not have to log into a million different websites and remember passwords for them all, you just need to log into your Central National Bank online banking account and access the bill pay tab. If you're not sure if you have access give your personal banker a call. Our Value and Premium accounts both come with bill pay, or you can add it to your account for a fee. Learn more about pricing at https://centralnational.com/whycentral/onlinemobile.asp#billpay
We include an option to pre-schedule payments on their due date, or another day of your choosing. And, best of all, whether you receive your bills electronically or by snail mail, you can utilize online bill pay to schedule payments. After you schedule a payment, we will either pay those companies electronically or, if the payee cannot accept an electronic transaction, we'll send them a check on your behalf. You can create a weekly, bi-weekly, monthly, semi-monthly, quarterly, semi-annually or annual payment and specify when you want the payment to start and stop, or you can set up a one-time payment.
Security
Now, to address that security concern… We use the best security protocols to help keep your transactions secure, and your information secure, including:
Usernames and Passwords
Multi-Factor Authentication
Security layers that help in preventing outsiders from attacking the institution
Encryption processes that keeps your data hidden during electronic transit
Automatic sign off if your online session is idle for too long
Plus, if you have our mobile app, you can utilize facial or fingerprint recognition to log in and pay bills if your device allows it
Simplified Money Management
Online bill pay also allows you to check account balances and payments all by viewing a single screen. It makes it easier to go down the list each month and make sure your payments are scheduled and/or already paid. You can also search for specific payments online in your online payment history if, for example, your provider has a question about a payment. You can also set up email alerts that will help keep you organized and informed about scheduled payments.
Perhaps my favorite benefit to online bill pay is the option to set up payees and manage them within the system. I can pay my electric company, or my Mom, all from the same screen by adding and managing payees in the system. You can also set up as many payees as you'd like.
Going Green
Another added benefit to paying bills online is eliminating paper waste. If you can sign up to get statements electronically, and you can make your payments online as well, that's a lot less printing and a lot fewer filing cabinets in your home office! And if we can issue a payment electronically that also reduces the number of paper checks being mailed, as well as the costs of postage and envelopes for all involved.
Organization
Fewer filing cabinets means more consistent organization. I don't know about you, but I can never find the bill I am looking for when sifting through folders in a filing cabinet. Half the time the bill doesn't even make it to the file folder, it ends up sitting on top of it for months, collecting dust. But, when everything is saved in a folder on my computer desktop it makes it easier to find, and print if necessary, any bill I need to reference again whether it is tax time, audit time or you just cannot remember how last month's expenses compare to this month.


Saves You Time
While some might argue this is the same thing as convenience, saving time is important enough that it deserves credit as a whole other benefit. There are so many other things you could be doing each month other than sitting at your kitchen table writing out checks and stamping envelopes. Once you have online bill pay set up, it takes just minutes to pay your bills. Sure, it takes a little time to set up payees in the system initially, but that's one time versus each month. Just select a payee and schedule the next payment, unless the bill is the same amount every month, and then all you have to do is set up a recurring payment.
For most people, the biggest benefit of online bill pay is convenience, but a growing number of customers are also using it to make person to person payments without the need for setting up an account somewhere else (i.e. Venmo, Paypal, etc.). Read our article about Why You Should Use Our Person to Person Payment Feature if you're interesting in using online bill pay to pay friends and family members. I promise it's worth checking out!
7 Benefits of Online Bill Pay