When the decision to buy a vehicle arises, there are a number of things to consider before signing on the dotted line. Take the time to research and become familiar with the car buying process. Buying a car is a significant investment and having a clear understanding of what you want and need in a vehicle will ultimately help you get the best deal for your money.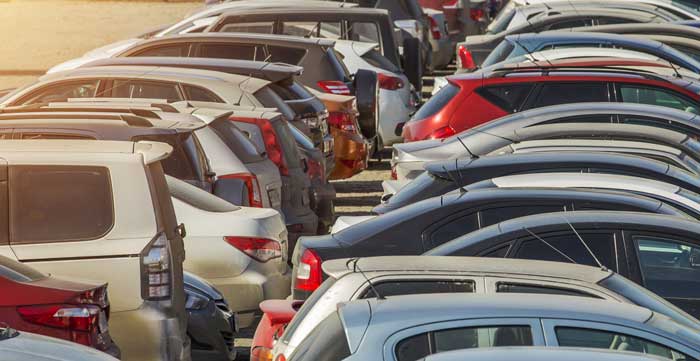 A few of the factors that can come into play when deciding to purchase a vehicle are cost, size or carrying capacity, clearance and towing capabilities, as well as fuel efficiency. Since we could spend all day listing which features you need to consider, let's focus on a few that affect one major decision that needs to be made: do you buy new or used?
Extras
A good place to begin is by making a list of features, or extras, you will want your vehicle to have. The desire to have the latest and greatest technology and safety features can be a critical factor in deciding what car is right for you. For example, expecting parents tend to focus more on safety factors and whether or not a vehicle will fit a car seat rather than whether it has heated seats and automatic defrost on the side view mirrors. And if you're determined to have all the bells and whistles, regardless of your current life situation, then there may be no compromising over the extras. If that's the case, purchasing a new car may be the way you want to proceed. However, if having some of those features is nice, but not a deciding factor in the car you choose, then purchasing an older vehicle may be best.
Price Comparison
Quite frequently, a car without the latest and greatest in features will be less costly than something top of the line, and that can be helpful when it comes time to compare prices. When looking into a new vehicle, a price comparison typically is not the most important factor. So if you're on a budget it may be best to focus your efforts on a used car. But you should still do your homework no matter which route you choose, because you may find out that a similar vehicle is available through another dealership at a lower price due to slightly different models, colors, body styles, and other factors that determine the cost of a brand new vehicle. It's also important to look within your region and not just the local dealerships where you live. Sometimes neighboring communities will have a different selection of cars, trucks and SUV's than the dealer down the street.
Fuel Efficiency
Customarily it is newer automobiles that are comparatively more fuel efficient than their preceding models. And if fuel efficiency is one of your top priorities, it would certainly be worthwhile to look into a newer vehicle. If you're comparing a vehicle that's only a year or two old to the current model year you might find that there's not much of a difference. Maybe there's a bigger difference in fuel efficiency between a four-door sedan and an SUV than there is between a car that just came off the assembly line and one that's got a few miles on it.
Depreciation
Another matter to be aware of is depreciation. Depreciation is the reduction in the value of a car at the time of sale. There's an old saying about a car losing its value the moment you drive it off the lot, and it's often the truth. Autos start to depreciate immediately and lose value each year as time goes on. Depreciation is not as much of a concern for used car purchases because a big chunk of the depreciation occurs within the first year. So, if you prefer to pay for and keep your car's value more stable, you're better off purchasing an older automobile that has already depreciated. Also, consider researching which vehicles have a tendency to hold their value. Certain brands and models are well-known for having a better resale value than others.
Checking the VIN
Buying a car always requires attentiveness, but maybe more so when you're searching for a used ride. Obtaining a detailed analysis of market pricing can give you better insight into a vehicle's worth based on age and mileage. You can also obtain historical information about a used vehicle by doing a search on the vehicle identification number (VIN), which is a unique combination of letters and numbers that are assigned to every vehicle. A VIN is like a Social Security number. When purchasing a used vehicle, doing a check online or through the auto dealer will give you a detailed history of how that particular vehicle has been maintained. The report may also tell you whether or not any major accidents have been reported. Accidents can sometimes result in major repairs, including part replacement and body work. A car with considerable work may have issues with paint or replacement parts a few miles down the road. You might not get all of the details of an auto's history, but in a decision as important as buying a car it is a small price to pay for more information on your potential ride.
Inspection Matters
The inspection criteria are different for new and used cars. The inspection of a new car merely includes a detailed review of the auto documentation along with a demonstration by a salesperson about all the specifications of the car. Older vehicles will need a more detailed inspection including a look under the hood and possibly a test drive. Hiring a professional mechanic to represent you in the purchase of a used car is always a good idea, because it can be risky to rely solely on the owner's claims.
One's Own Satisfaction
Whether you choose to buy a new or used car, self-satisfaction should be one of your foremost considerations. If you feel dissatisfied at any stage of the car buying process, that alone may be justification to take a step back and re-evaluate your purchase. Don't move forward if you're not sure. While it can be done, it's a major headache to return a purchase as big as a car, especially if an auto loan is a part of the process.
Summary
Taking the time to consider all options will help you have a greater understanding of the car buying process and will help ensure you are purchasing an automobile that is best suited to you. Make a list of questions to ask. Be prepared to sleep on a decision or do more research if need be. And regardless of whether it's a new or used auto that you seek, rest assured that financing options are available down the street at Central National Bank. Don't forget about our Summer Auto Loan promotion, where great rates are available now through the end of the month (Sept 2020).
Should You Buy New, or Used?