Forget the holiday season, prom season is here, and it's just as much of a money pit. According to Yahoo Style's 2017 Prom Across America survey, the average amount spent last year was over $600. This is actually fairly tame in comparison to 2013. Visa found in their 2013 prom survey that the average family spent a whopping $1,139 on the evening. One thing that's remained consistent is that parents are paying just over half of the total.
Whether you're dreading your teenager going to prom for the first time, or this is your third prom season and you're looking to save a little extra, we've got some tips for you. Done right, you can use prom as a budgeting experience for your teen, avoid breaking the bank and give them a fun night to remember.
Before you even think of shopping, it's important to determine how much of the prom expenses you're willing to pay for. Whether it's $100 or $300, let your teen know in advance so they can budget accordingly. This will give them enough time to make up the rest of their expected budget or plan to make cuts.
If you'd like to incentivize your teen to keep costs low, consider letting them know they can keep the extra money if they come in under budget. For example, if you're willing to spend $200, and they only end up using $160 of it, they get to pocket the other $40.
Once you've set your budget limit, have your teen draw up a prom budget of their own. Listing out all their expenses, and how much they think each item will cost, can help give them a starting point, even if they're a bit off in their estimates.
Then hand over that cash. While your teen might blow their budget, that doesn't mean you have to do the same. Stay firm and stick to the agreed-upon amount. Let your teen know that they will have to earn more to make up the extra expenses, or start cutting out things. If they're interested in saving money, here are some great ways you can help them start.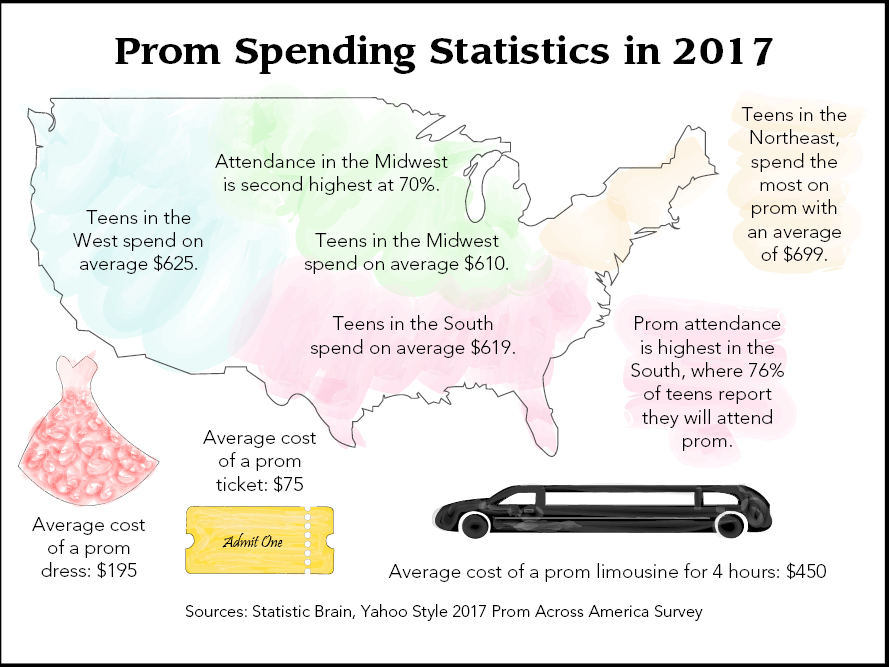 The dress/tux
Not every guy opts to wear a tux. Some decide on suits or even a sports jacket instead. It really depends on the prom. If you can, see if they can wear something they already own. For girls, see if you can find a gently used, second-hand dress. Many prom dresses are worn once, then put back in the closet to collect dust. You can also ask a friend if they have an old prom dress, or find a dress exchange group on social media. There are also sites that let you rent formal dresses for a fraction of the cost of purchasing. If you know your teen will be attending prom next year as well, visit the stores just after prom season since their extra stock will likely be on sale then!
Tickets
Sorry, there's no way out of this one. Just make sure you take ticket money off the top since it's the most important. No tickets, no prom.
Dinner
If your ticket includes a dinner, great! If it doesn't, help your teen understand that there are other options besides the most expensive steakhouse in town. When making reservations, you can even see if there's a discount for groups that use a limited menu of similar meals. If you really want to save money, have someone in your teen's prom group host the dinner at their house. This can be as formal, or informal, as you like.
Limousine
Is it really necessary to take a limo to prom? If your teen isn't going to drive themselves (and they definitely don't want you driving them), try and find a friend that can take them. If your teen is insistent on a limo, see if they can split it with a larger group to reduce the cost.
Hair, Makeup and Nails
Go to your local cosmetology school! They have the same services as salons, but will be much cheaper. Another option is to try a store such as Ulta, Sephora or a local department store. If your teen goes this route, make sure they schedule an appointment in advance and that they're aware of any minimum purchase requirements. Of course, if your teen is talented in this area or has a friend who is, doing it themselves will save a lot of money.
Corsage/boutonniere
Yes, it's traditional to have a florist make these, but there are also tons of do-it-yourself instructions online. If you're particularly crafty, you can buy the flowers yourself, or you can also try making a silk corsage/boutonniere out of supplies you would find at stores such as Hobby Lobby.
The bottom line is that if you and your teen are motivated, prom doesn't have to be a hugely expensive affair. You can save money and your teen can still have a memorable night. After all, the important part is making memories with friends. Everything else is just icing on the cake.
How to Help Your Teen Budget for Prom