Over the years we've been relying more and more on our trusty smartphones. A 2016 eMarketing survey showed that the average adult spends around four hours a day on their phone. They have become a platform for everything from online shopping, to multiplayer gaming to mobile banking. Since our devices have become such a huge part of our lives, it's important that we keep them safe and secure. We've compiled five tips that are easy to implement, but will go a long way toward protecting your phone and mobile information.
1) Set a screen lock
Did you know that you're more likely to lose or forget your phone rather than have it hacked into? Should this happen, it's important that you have a screen lock on your phone. Setting up a screen lock could involve using a password, fingerprint recognition or even facial recognition. The important thing is that not just anyone can get into your phone if it's lost or stolen.
2) Make sure to update
Don't be tempted to hold off on a software update just because you don't have the required battery level or you don't want to be without access to your phone for a few minutes. Hackers are always looking for ways to plant bugs and get through operating systems. In response, the software developers release new updates to block them and help make your phone more secure, however, you can't take advantage of the added security if you're not updating your phone, so make sure that you're running the latest operating system at all times.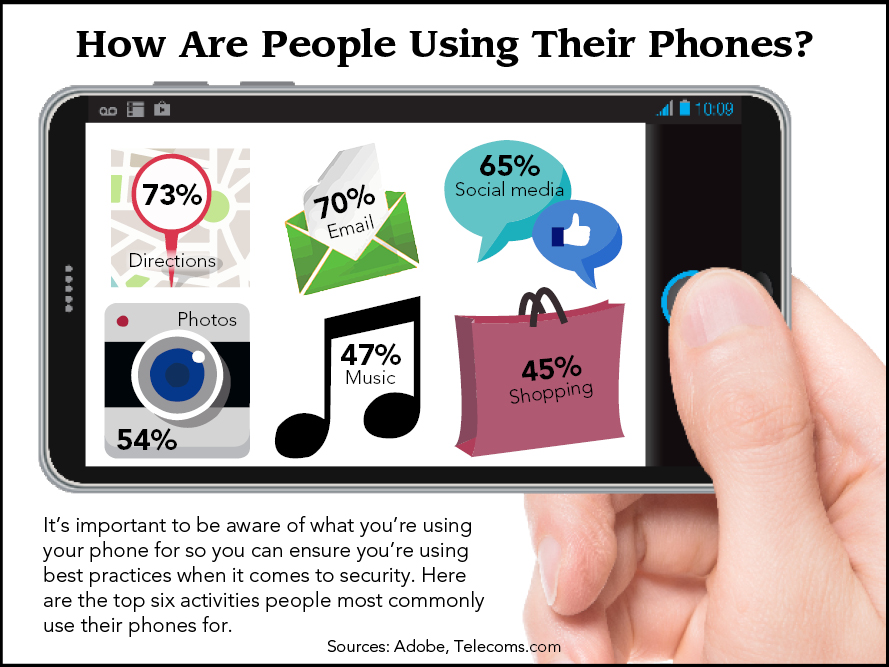 3) Always backup everything
Unless you've specifically changed your settings, many phones will automatically back up your data. For example, iPhones automatically send information like photos and contacts to the cloud periodically. You can also manually back up your phone if you'd like to set that schedule yourself. In the event that your phone is lost or stolen, recovering your information or transferring it to your new device will be much easier.
4) Check your privacy settings
Often, when you download a new app, it comes preset to the broadest privacy settings, so it's your job to lock things down. Is it an app that needs to know your location? If not, turn off location tracking. Many times apps give you the option to log in with your Facebook account because this gives them more information about you. It may tell the developer who your Facebook friends are, pages you've liked, etc. Does the app need your Facebook information to run? No? Then turn off that setting and restrict the data it can access. Another option is to create an account using your email and password instead of going through Facebook.
5) Set up remote access and tracking
In case you lose your phone or it's stolen, it's a good idea to have a tracking app downloaded so you can find or connect to it over the internet. For example, "Find iPhone" is one that comes pre-installed on iPhones and allows you to see your phone's location using a computer. Some apps will even let you remotely wipe your information from your device if you suspect that it's fallen into the wrong hands.
Are you looking for other ways to secure your information online? Check out our blogs, Safer Internet Day – Online Banking Edition, Data Privacy Day – Are You Protected?, Cybersecurity and Your Small Business, and What is Ransomware and How Do You Avoid It?
Are You Following These Mobile Security Tips?