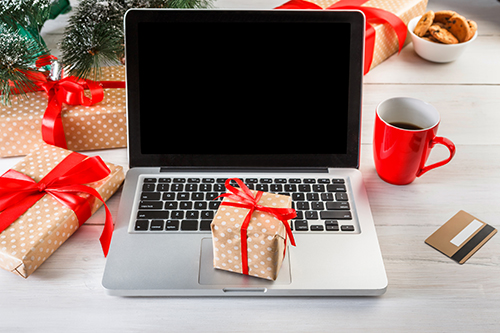 You should always be on the lookout for scams; but due to the influx in shopping and distractions in December, scammers are more likely to try and gain access to your money and personal information making it even more important to be vigilant in the upcoming weeks.
Here are three holiday threats that you should watch out for as well as helpful hints on how to avoid becoming a victim:
Keep an Eye on Your Accounts
Whether you buy everything that catches your eye, or plan out every purchase individually, it is important for you to keep an eye on your accounts during the holiday season. It only takes one store compromise to give criminals access to the funds in your bank account. Utilizing alerts in online banking or your CNB mobile app are two easy ways to give you peace of mind and assure that the only purchases coming through your account are ones that you have authorized.
Traveling Safely this Holiday Season
With more than ninety million Americans traveling this holiday season, and the cost of travel on the rise, it is easy for passengers to become targets of scammers offering cheap options that are hard to pass up, but ultimately too good to be true. For example, if you're trying to book a trip online and they won't accept a credit card for payment be cautious. If they insist on a wire transfer, don't do it! It's most definitely a scam. Phony distress emails, free vacations, and travel clubs are all ways that scammers will attempt to target you. Don't fall victim to these tricks and always do your research before making any purchasing decisions.
Here at Central National Bank we try to keep you protected, and the best way for us to do that is if you inform us at your local branch in advance of your trip. This is important especially when you plan on traveling out of the state or country. This is the easiest way to avoid problems with your debit card. If we know you aren't traveling, then we can shut down fraudulent point of sale transactions much faster.
Be Cautious of Email Deals
Not all emails and sales are going to be legitimate this shopping season. If it sounds too good to be true then it probably is! Many emails and promotions from stores you already shop at are legitimate, but it is important to exercise caution when receiving deals or product promotions from stores or sellers you have never purchased from. Scammers will be trying to take advantage of everyone so make sure to do a little research before making purchases from companies you have never worked with before.
Fraud tips brought to you by:
http://www.pcworld.com/article/3143570/security/10-sneaky-holiday-phishing-scams-to-watch-out-for.html#slide1
http://www.cbsnews.com/news/how-to-protect-yourself-against-charity-fraud-during-the-holidays/
http://www.cbsnews.com/news/beware-of-holiday-travel-scams/
Look for these Types of Fraud: Before and After the Holidays- Part 1 of 3