Yesterday, we held a ribbon cutting ceremony to formally announce the grand opening of our newest bank branch located in the Walmart Supercenter on Wanamaker Road in Topeka, KS!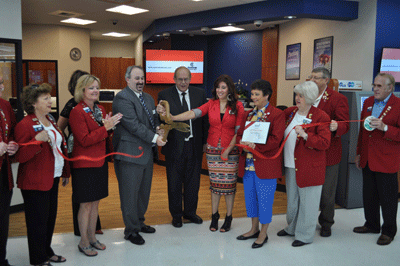 Bank employees, guests, and Topeka Chamber of Commerce representatives were in attendance for the ceremony. Marsha Sheahan, Vice President of Public Relations, offered welcome remarks and introduced Central National Bank representatives for their comments.
"Our bank values our partnership with Walmart and is proud to offer customers such a convenient option for banking services," said Ed C. Rolfs, Central National Bank Chief Executive Officer. "We are committed to Topeka and really enjoy our customers here and this community."
We operate in-store bank locations in six Walmart stores across Kansas. The new Topeka Walmart location is a full service banking location and is open seven days a week. The branch is equipped with a Smart ATM, enabling customers to make deposits and withdraw cash after hours.
"Our team is thrilled to be here and open for business," said John Legg, Branch Manager. "We have exciting grand opening specials and encourage everyone to stop in and visit our new branch."
The Topeka Walmart branch will be open Monday-Friday from 10:00am to 7:00pm, Saturdays from 9:00am to 4:00pm and Sundays from Noon to 4:00pm.