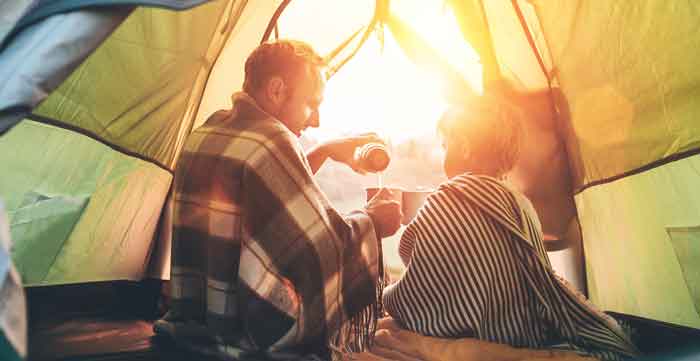 It's no secret that we're running an RV and boat loan special this spring, which gives you plenty of time to purchase a rig and plan your trip out, but if you're lacking in inspiration look no further than "CNBAmanda's Top Ten Parks to Visit in the U.S.A."!
Yep, that's maybe as dorky out loud as it looks in print. I'll spare you the heartwarming intro and jump into the juicy details. Here's my top 5 State parks in Kansas and top 5 National Parks in the U.S. Sorry, Nebraska folks, I was born and raised in Kansas!
Kansas State Parks/State Fishing Lakes
5. Lyons County State Fishing Lake near Emporia, KS
First, a disclaimer, number five on my list is primarily here because it was a memorable trip, but not because I particularly enjoyed the area. Chase State Fishing Lake and Wildlife Area is located near Emporia and my most memorable, and only, visit to the lake so far was for a tutorial on camping in cold weather. The course was informal and taught by a friend with lots of experience. It was a great class, but the worst part of it was that it was taught when the weather was brutally cold and I really could have used the information about layering up before I went to the class. I spent much of the time hovering behind my husband, the wind block, trying to stay warm.
Maybe I'll go back someday and see if I can pay attention to my surroundings so I can give a more adequate recommendation for this lake! I will say that we loved our meal at Radius Brewing Company in Emporia following the class. We especially loved the hot pretzel bread and dip on the appetizer menu.
4. Mushroom Rock State Park in Brookville, KS
We spent a weekend visiting off-the-beaten-path parks and sights in Kansas a couple of years ago, and one memorable spot was Mushroom Rock State Park, five miles North of Kanopolis Reservoir. My only reason for loving this tiny little park so much is the giant, mushroom shaped rocks. If you've got kids, or a spouse who is easily amused this is a stop you won't want to miss!
3. Geary State Fishing Lake and Wildlife Area in Junction City, KS
Ten miles south of Junction City is one of our favorite kayaking spots because the lake is small enough there aren't many motorized boats zipping around. And a lack of motors means a lack of wake, which is preferable when you're in a kayak! The lake has a reputation for snakes, but most lakes in Kansas do, so wear appropriate footwear and explore the area with your brain plugged in. If we've had much rainfall, the falls at the spillway are spectacular and a must-see. There's also lots of hunting surrounding the lake if you plan your trip around a particular season.
2. Milford Lake and State Park in Milford, KS
Home to the largest natural body of water in our flat, dry state, Milford is an attraction for fishermen, hunters, motorsports enthusiasts and photographers. Since Junction City is just a few miles southeast of the lake we're equally familiar with the area and you can't beat a State Park that's in your backyard. Plus, it makes the list of my most memorable state parks because my husband grew up on the lake and one of our first dates was on the lake. Collective sigh of disgust on 3… 2… 1… Awwwrgh!
1. Lake Scott State Park in Scott City, KS
Topping the list of my favorite Kansas parks is 11 miles northwest of Scott City and listed as one of the country's 50 must-see state parks by National Geographic. Eastern Kansans don't know what they're missing if they've never explored this oasis that's tucked into the western Kansas prairie. It's also my favorite because it's the site of the church camp I frequented as a kid. Camping, boating, hiking, hunting, fishing and wildlife observation are all options at Lake Scott and the nature trails can accommodate horseback riders in addition to the usual, human foot traffic.
If you're a history buff don't miss out on spots like Battle Canyon and The Steele home, which was the dwelling of the original settlers in the area over 100 years ago.
National Parks
5. Yosemite National Park in California
When I was in college my parents packed up my sisters and I and we headed west to California. My sister had been eyeing the Culinary Institute of America in Napa Valley for her education and they felt that we should all visit before she decided what to do. And because we're a park and museum kind of family that meant a stop at Yosemite National Park was in order. I actually don't recall anything of this part of the trip besides the stunning views we experienced and if you know me at all then you know that it's not vacation unless you're looking at something that strikes you with awe.
4. Badlands National Park in North Dakota
One cold, rainy, foggy, sort-of-awful fall we drove north to the Dakotas to see Badlands National Park and some of the nearby sites. Badlands was the best part of the trip due to the lack of fog and lack of visitors since we timed the trip for later in the year. If you get a chance to go you definitely want to take it. Try and visit the Crazy Horse Memorial and Mount Rushmore while you're at it. We thoroughly enjoyed the whole trip north and hope to go again on a less foggy day in the future.
3. Grand Canyon National Park in Arizona
As a high school… freshman? I think. My parents loaded all of us girls up into the Suburban with sleeping bags, and we took our first road trip outside the states of Kansas and Colorado. We traveled all the way to the Grand Canyon stopping for the night at K.O.A. campgrounds where Mom and Dad were able to book a small rustic cabin for a family of six much cheaper than any hotel stay. That was my first taste of "camping", a pastime my Dad and his sisters grew up enjoying. I've learned it's not even close to "real" camping, but it'll do in a pinch and that trip to the Grand Canyon is a memory my sisters and I will have forever. I'm not doing much to sell the Grand Canyon as far as National Parks go, but a naturally occurring canyon of its size is not something you want to miss. My favorite part of the trip was the hot, dry heat! It was quite chilly in the early morning hours as the sun rose over the canyon, but as the day heated up I understood why my parents never took us east or south for family vacation!
2. Black Canyon of the Gunnison National Park in Colorado
I've been vacationing in Colorado every year for the last 34 and the Black Canyon is by far one of the most stunning of views I've experienced. I've been all over the state and it wasn't until this last year that I got to experience the Black Canyon. As awesome and amazing as the Grand Canyon is in size, the Black Canyon has it in sheer drops. And I'm afraid of heights so there were views I didn't even experience due to lack of motivation. Hard to walk to the railing when your head is spinning! That being said, I'll go back and enjoy the south rim someday, which we avoided last year due to it being more touristy even during a pandemic.
1. Yellowstone National Park in Wyoming
Hands-down, my favorite national park trip was my honeymoon to Yellowstone National Park. Though only slightly jealous of friends who went places with slightly more amenities than we had in our room at the lodge in the park, we thoroughly enjoyed our trip north and hope to make it again someday with kids. Two things were particularly memorable on this trip, aside from the fact that it immediately followed a wedding, and one was the wildlife. There's not many places you can experience wildlife like you do in Yellowstone. And the second memorable experience was the variety of thermal features in the park. It wasn't just Old Faithful, which is always featured in films and media, but the variety of water features to see and explore in the park. In short, I'd go back to camp instead of sleeping in a bed, and to explore more of the park than what we had time for during our short trip.
Oh yeah, third most memorable part of the trip: We left the Jeep at home and drove my Toyota Camry over some supposed 4WD trails while up there. We had a lot of fun documenting the bumpy roads for our Colorado-loving friends who are into that sort of thing. Up in Wyoming they apparently have a different idea of what you need 4WD for…
Honorable Mention: National Mall in Washington D.C.
A natural rite of passage for every middle school student, in the state of Kansas anyway, is the 8th grade trip to Washington D.C. Much of my travel is not centered on cities or people, but if history is your thing make sure you make a trip to the nation's capital. The National Mall does not disappoint and technically pops up in a search for National Parks, which is something I did not learn on my 8th grade trip. Or I forgot. That was a long time ago.
Happy travels!
A Banker's Favorite Parks