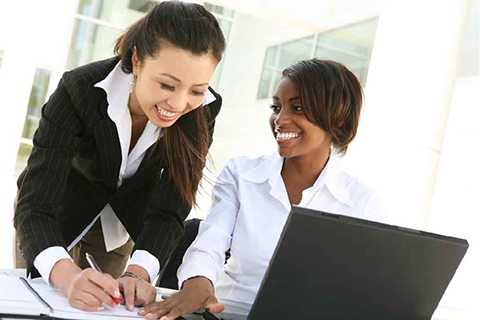 Central National Bank offers a variety of business services to our customers, and one of them is ACH services. If you're not familiar with what an ACH is, ACH stands for Automated Clearing House. This form of payment is done using an electronic processing system that uses your routing and account number to make a payment. Here are a few of the potential benefits to you, your business and your customers when you choose to start using ACH services.
Convenience
Your customers will be able to set up automatic payments or one-time payments, which will allow you to spend less time collecting checks from your customers. Customers always appreciate it when businesses make it easier for them to make payments or handle their business. This will also allow you to minimize trips to the bank to deposit checks.
2. Efficiency
Since an ACH payment can be done online or over the phone, the amount of time it takes to make or receive a payment is cut significantly, especially if your customer is not nearby, forcing them to mail you payments. It will help your customers save on postage, or reduce the number of trips across town they need to make.
Another aspect of this service that will help make your business more efficient is that you no longer have to deal with the physical check. You can't lose or misplace checks that you don't have. This coupled with fewer trips to the bank will allow you to spend more time on other tasks that can make your business run more efficiently.
3. Security
Since fewer parties are involved in the handling of an ACH payment, your information is at less risk than almost any other form of payment. Physical checks can be lost, stolen or duplicated putting your customers at risk. While debit card and credit card are very secure, fraud still happens there as well, but electronic payment methods make things more secure as there is less information changing hands. More secure payment methods can help build a business's reputation over time.
If you are interested in reading more information about Merchant Services, would like to see what other products are offered to business customers, or would like a Product Champion to reach out to you with more information, visit your local branch, or go to our website https://centralnational.com/business/services.asp today!
3 Benefits of ACH Services