You probably know about mobile payment options by now, whether that's Apple Pay, Samsung Pay or Google Pay, but do you use one? If you're like most people, you have a vague concept of what they're all about, but you're not convinced they're for you. Maybe this is because you're worried about security, or maybe it seems like a lot of extra effort to learn something you don't really need. We want to address such concerns, give you the need-to-know facts, and show you why a digital wallet might be the best option for you after all.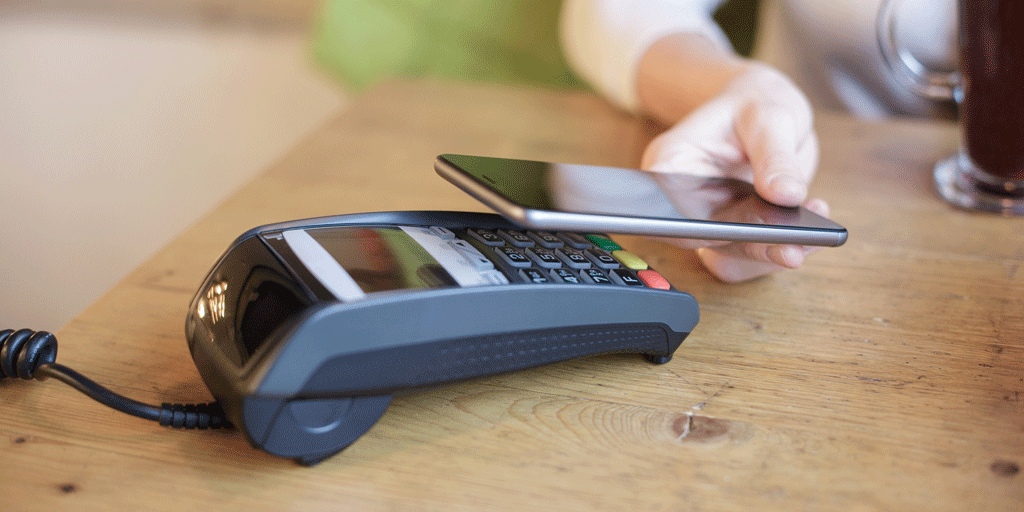 What's it all about?
Instead of carrying all your credit cards, debit cards and gift cards around with you, they're simply on your smartphone. If you're at a store, you can make a purchase by holding your phone near a payment device (and if you're using a fingerprint, you won't even have to unlock your device). If you're shopping on your phone, all you have to do is tap a button without having to enter all your information.
Bottom line: It's a fast and convenient way of making payments through your smartphone.
But is it safe?
So maybe you don't think a little convenience is worth the security risks. While it's true that there are phishing schemes out there to steal passwords (just as with any other technology), being aware and cautious with your information is often the best defense.
However, all things considered, a digital wallet might actually be safer than using your physical cards.
1) Paying with a digital wallet means that your card number is completely safe during transactions because that information is not passed on to the seller (it's not even stored in your phone). Instead a process called tokenization is used to generate a random set of numbers that's used for each payment.
2) In fact, digital wallets come with heavy encryption methods which make it nearly impossible for anyone to see or use your information. Unlike with physical cards, this information can't be pick-pocketed either.
So it's unlikely anyone will gain access to your information using cyber methods, but what if you lose your digital wallet or it's stolen? Of course, keep in mind this can happen with your actual wallet as well.
3) But unlike losing or having your physical wallet stolen, if your phone (and with it your digital wallet) goes missing, you don't need to cancel your cards. All you have to do is lock your digital wallet down remotely, and because everything is encrypted, this effectively shuts down the threat to your information.
And if all of that doesn't convince you, keep in mind that:
4) Most credit cards offer "zero fraud liability," which, contrary to the name, actually means that you are 100% protected if there are ever any fraudulent transactions.
How will it help me?
Maybe you're wondering, "Why should I take the time to set one up, and learn how to use it?"
If you've ever lost a credit or debit card (come on, we've all been there) you know how awful the initial moment of panic feels. Well, no more.
1) With a digital wallet, you can keep your physical copies in a safe location at home. If you do lose your phone, it's easy to lock it down remotely and not have to worry about all that other stuff.
According to recent research, the use of peer-to-peer payment apps is expected to double by 2020, from 69 million users to 126 million. This means you might soon find yourself using such technology to split a bill, pitch in for a family birthday gift or pay back your friend.
2) If you're an Apple user, you might've heard some buzz about the new iOS update. This includes a feature where you can pay your friends directly through iMessage without having to download a separate app. When you receive money this way, it appears as an Apple Pay Cash Card in your digital wallet. This can then be used to pay instantly at stores or online or can even be transferred to your bank account.
And finally, there's no denying that a digital wallet is just straight up convenient.
3) Say goodbye to fumbling around in your wallet for the right card or even making sure you have the right card in there. Digital wallets can be used at most major retailers. For a list of retailers that accept Apple Pay, you can go to their informational page,  https://www.apple.com/apple-pay/where-to-use/. Google Pay provides a similar list about where to use their service on their page, https://pay.google.com/about/where-to-use/, and this blog article, Everywhere You Can Use Samsung Pay, explains where you can use Samsung's system. Digital wallets can also be used anywhere online.
What concerns you most about digital wallets?
Ready to try it?
That was a lot to take in, but we wanted to give you the whole picture when it comes to digital wallets, hopefully putting to rest some of your concerns and showing you just how beneficial they are.
So what now?
Depending on the device you use, search for Google Pay, Samsung Pay or Apple Pay in your app store.


Then, follow their instructions to add in all your gift card, credit card and debit card information. Don't forget to put in all your Central National Bank cards! You might have to answer security questions or complete a security verification for some of your cards. Once you're done with that, you're ready to use your digital wallet. Just make sure your battery is charged up.
Still have some questions after all that? Check out our previous blogs on Samsung and Google Pay and Apple Pay for a rundown on the basics of each specific system.
Our Special
During the month of October, we're running a digital wallet special where you can receive $5 in your bank account if you put us in your digital wallet. For full details, visit our informational webpage so you can take advantage of this special!
Why You Should be Using a Digital Wallet