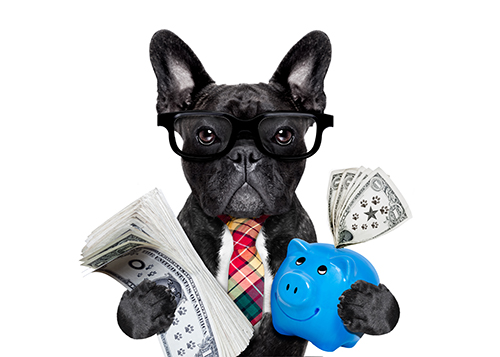 Saving money is a part of life that everyone must face. For some, the issue with saving money is that they simply do not have a large enough income. For others, it's impulsive spending on items they do not need with money they could have saved. Saving money shouldn't be a hassle, if you fit into either of these categories here are some tips on how to become a better saver this year!
Set up an automatic monthly transfer
What is more important than planning for your future? No matter how much money you're making it is important to put money back in case of emergencies. The easiest way to do this is to have a set amount per paycheck automatically deposited into your savings account. With this in place you will never see the money leave your account and you can save without thinking twice about it. There's no need to start out extreme, even $10 a month will add up before you know it.
The easiest way for Central National Bank customers to do this is to go into the Mobile App and the Transfers Screen. Set up a Transfer from your Checking to your Savings account and under Frequency select a recurring option, such as Monthly, Select an amount and a date for this transfer to occur. If you ever need to edit this amount or cancel a transfer, you can do that by clicking on Scheduled Transfers in the Transfer screen. As always, call us at 1-888-262-5456 with any questions you might have.
Create a budget and stick to it
Recording your purchases is the best way to find out what you may be spending too much money on. Once you have this information you can plan for next month's expenses and try to find ways to spend less and save more. Make a list of short and long-term goals for yourself, and make them happen! The most important part is to make it realistic, you might have to cut out a few things but it'll be worth it when you accomplish your goals. It pays to set your financial goals and if you need a plan we can help!
Central National Bank has a new service within Online and Mobile Banking called MoneyCentral. This tool allows you to keep a closer eye on your budget. Set up a budget by clicking Budget and following the steps on the screen. MoneyCentral is free for account holders, all you have to do is log into your online banking and click on the tab to start using it.
Think before you buy
If you struggle with saving money because of impulse spending, waiting a day, or even a week, before making your purchases will make a huge difference in your bank account. Unless you've done research and know you're getting a great deal on something you truly need, choosing to wait to make your purchase will save you from spending money on things you don't really need.
Keep your change
Saving change may seem like a minimal way to reach your goals but a little bit of change every day can add up to a big reward. If you are someone who uses cash to make purchases, try filling up a jar with all your leftover change. Once it is full you can take it to your local branch and have it deposited into your savings account. If you prefer spending with a debit card, you can visit any Central National Bank location and sign up for the It Makes ₵ents! Program. Every time you swipe your Central National Bank debit card we'll round your purchase up to the nearest dollar amount and put the difference into your savings account. Along with this, Central National Bank will match 5% of every penny saved!* Your savings will add up fast and you won't even have to think about it. To sign up, call your local branch or email us using the secure form on our website.
Get everyone involved 
Whether it's your best friend or your parents, one way to make sure you stay on track with your goals is to have someone to hold you accountable. Make sure they know you're trying to save money and this will reduce the temptation to go out to eat or spend money on other unnecessary purchases. If they take the challenge with you, then even better! You can make a fun competition out of it which will provide even higher motivation to save.
New Year for a better you
The reality is that you should be saving money for your future- no matter the circumstances. Now that the New Year is upon us it is time you put these tips into action and by this time next year you'll be thankful that you did!
*Maximum match amount of $50 per statement cycle. You must have at least two Central National Bank deposit accounts to be elligible for It Makes ¢ents!.
Make 2017 Your Year of Savings