If you've been out to our website, you're already aware there are some big changes going on here at your local bank… and we're proud to announce we've just released our new, mobile responsive website as well as some visual updates to our online banking platform.
A mobile responsive website automatically resizes to fit your screen, whether it's a desktop computer, tablet or smartphone. Reading this on your phone? Try it here. We're also working to add more user-friendly content, including a Help section, where you can go to get all of your questions answered.
Don't worry. You can still log into your account right from the main menu on the home page!
Have questions/comment about our site? Please take our survey and let us know how we did. We always appreciate your feedback.
And, finally, our online account opening feature is being updated. We hope to have that back up and running before the week is over. Thanks for your patience.
UPDATE: We've received multiple complaints that the Online Banking log in button is not visible/working.  We have added pictures to the instructions below in hopes that we can resolve issues more quickly. If your mobile device or computer screen does not resemble the images following this post then we will need more information about your issue in order to get it resolved. Please email us at info@centralnational.com or call us at 1-888-262-5456. Including information about the web browser or mobile device itself will help us get to a resolution quicker. Our developers thank you for your feedback.
From a mobile device, click the icon in the upper left hand corner of the screen that looks like a black circle with three horizontal white lines  Then, click Login. We've included some pictures below that should help illustrate this.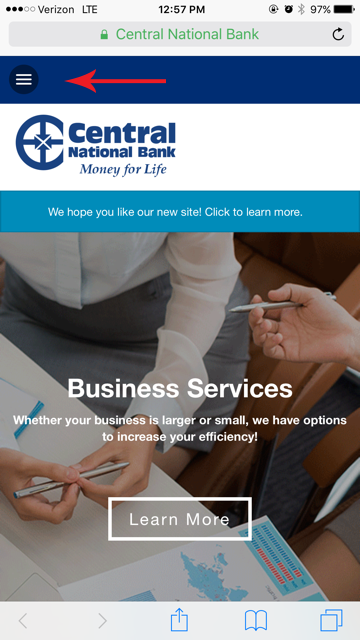 From a computer, the login button is now more visible in the upper right-hand corner of the screen. It is a blue button with the word "Log In" in white. We've included some pictures below that should help illustrate this.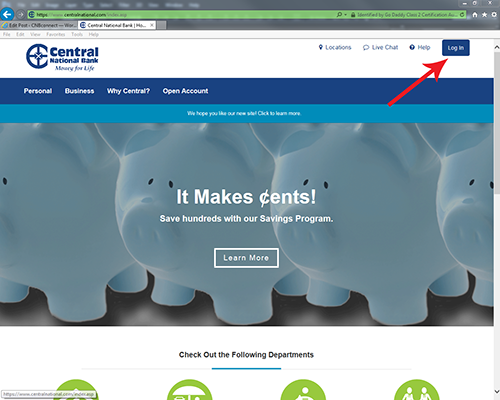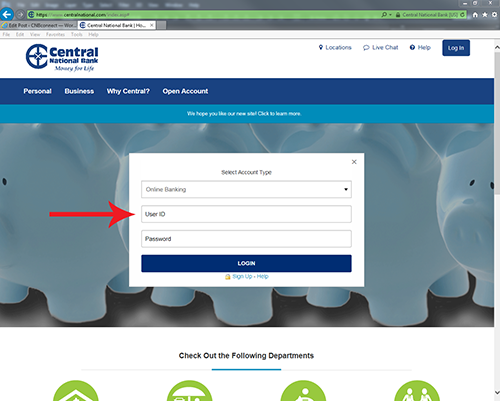 Introducing… Our Updated Website!