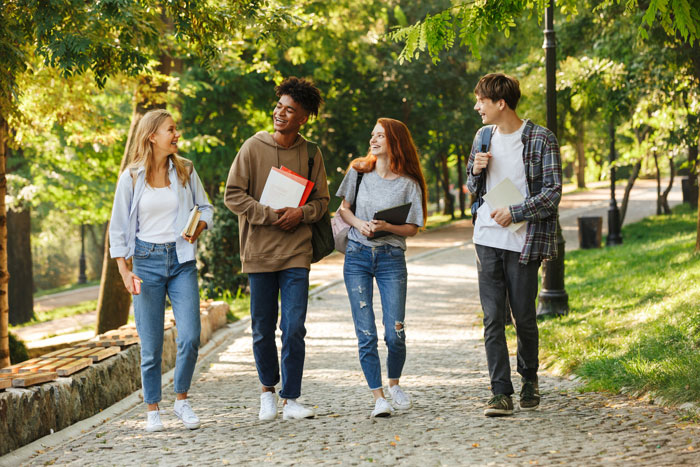 I am happy to say that I am a survivor of the first year of college. Not only did I have a blast, but I also learned some lessons that I hope I can pass down to incoming freshman. As Dorothy Ann from The Magic School Bus would say, "With the Frizz, no way!" So, this blog won't be like a normal back to school blog, and I am indeed going to play the role of Ms. Frizz here at Central National Bank. So, buckle up, we are going on a guided trip so that you know how to prepare to go back to college!
"Seatbelts everyone!" – Ms. Frizz
Now, for the first time in your academic career, you won't have a list of things you need to buy for class. Unfortunately, your professors won't tell you what you need for class until your first day as you're going through the syllabus. What I recommend you do get is folders/binders for each of your classes. Maybe you're like me and you still write your notes by hand, and if so, go ahead and pick up some spiral notebooks as well. I also use colorful highlighters and pens to make my notes more organized and fun! Paperclips are a must and so are pencils. Pick up some whiteout too, everyone makes mistakes. I think that covers the basics until you get to class, and your professors tell you the other items you need.
Dorm shopping can be a little bit more complicated. So, let's start with the basics. Get your bedding ahead of time. I recommend a mattress topper. Without it a dorm bed will make you feel like you are a guest in the Flintstone's house…a literal bed rock. Make sure that when looking for sheets and comforters that the size is correct. Most universities have twin XL beds in their dorms, but double check!
Get your bathroom amenities ahead of time too. I recommend going off of what you use at home to plan these out. I also recommended that you get a lamp for your desk because the lighting may not always be ideal in your dorm room or apartment.
Mini fridges and microwaves are a must so that you can make a quick snack or prepare a simple meal instead of going to the dining hall or out to eat. You will have sick days or days where you're studying hard and don't want to go out. Bonus points if you can find these two items used and save some money!
I made a spreadsheet to help me organize and plan my dorm and school shopping, which was very helpful. An important thing to remember is that you may not know what else you need until you get there and that's ok! For instance, you could decide you need a few trashcans or maybe even some storage bins to store clothes or food. Just take a quick trip to the store after you arrive and pick up those last-minute things.
"As I always say, for every trip, there's a road map." – Ms. Frizz
Where you are going you need sidewalks and pathways. Haha! Before the first day of classes, team up with a friend or your roommate(s) and map out where your classes are. Walk to each building where you have a class so that you can eliminate the uncertainty and risk showing up to class late. Not only will you be prepared, but you can also get your steps in and maybe even spend some time getting to know your roommate(s).
"The best way to know is to do." – Ms. Frizz
Make sure that you know your schedule. This means your class schedule, when homework is due, when you have a test, and other important things. In college, it is very important to be organized. At the start of the semester, I made sure that I had my class schedule written down and that my parents and roomies knew it too. This is also helpful, so your parents don't try and call or text you during class. Plus, it's easier to plan out your days when you have your schedule nailed down.
After I got my syllabus for each class I would also go to my calendar on my phone and input all the tests and assignments there so that I would know when they were due and I could set reminders to study. I also color coded each class so that I knew which class the reminders were for. This helped eliminate a little bit of the stress that I felt.
"Take chances, make mistakes, and get messy!" – Ms. Frizz
I'm not going to sugar coat things, college will be hard, but some of the best things in life are that way. You will have some of the best experiences, meet people that will be with you forever, and make lasting memories. However, don't be afraid to try new things. Know when to take a break, and make sure you have somewhere to relieve your stress. Try to have a healthy sleep schedule and make sure to eat right, your body needs that fuel! Bottom line…don't stress too much and remember to have fun!
Please, Let This Be A Normal Field Trip