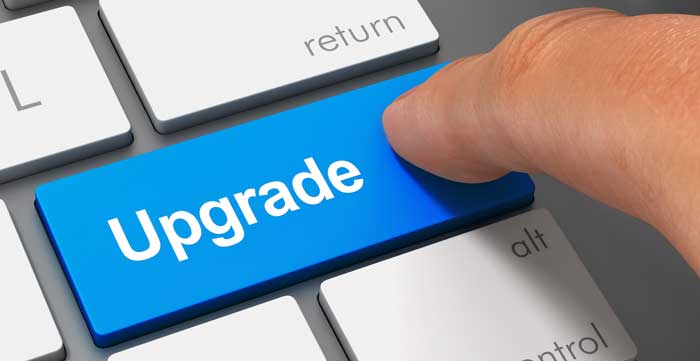 App and OS (operating system) updates are an important step in keeping our phones, tablets and computers secure. I always try to pay close attention to update notifications and respond as quickly as possible to avoid any problems down the road, and I'm sure you do too.
Sometimes an update addresses little things you don't even see, and sometimes an update is more of an upgrade and things change enough that it's noticeably different. Both types are important to keeping your finances easily accessible.
In July we're getting an UPGRADE and I'm excited to let you know what's coming. Here's what you need to know…
Two-Factor Authentication
This is a fancy way of saying your data will be more secure. Seriously. Did you know that online fraud took a major jump in activity in 2020 and continues to get worse? There's several major breaches a year (we're looking at you, pipeline); and now that everyone has worked from home, continues to work from home, or completes a majority of their shopping from home, the risk is even higher. We invest major budget dollars in making sure we're providing the best, most secure options for banking from home.
So….am I saying the current app isn't secure? Not at all. But it lacks a few bells and whistles that are available in other app options, and we take pride in always being on the forefront of technological innovation. We try to bring you the best in banking technology as soon as possible even though we're a community bank and not a mega bank that has branches across the country. This means investing time and resources in providing you with the convenient options available at other banking institutions. Two-factor is the latest and greatest and we're bringing it to your fingertips.
The best benefit to setting up two-factor authentication, in my mind, is the ability to reset your own password after hours. Do you know how many times I lock myself out of an account when a business isn't open? It's such a hassle to remember to fix the problem on the next business day and two-factor will allow our customers to initiate a reset on their own.
Card Control
You know when you lose your wallet and then panic because you just KNOW someone stole it?
So, you go through the motions to find the right numbers to call your bank and cancel everything.
And after talking to people at every institution you have an account at…
And then looking to see what you do about getting a new driver's license… you go to the kitchen to get a cold one, relieved that everything has been handled promptly and your money is safe.
But you open up the refrigerator and find your wallet.
Sitting there.
All chill.
Right next to the eggs.
Yep! Been there. It's infuriating.
Good news! The new app has a feature that allows our customers the ability to warm card (bank-speak for "temporarily shut off") their debit cards at the touch of a button in the app. Meaning you can warm card that little piece of plastic at the first sign of worry. So next time you find your 38 degree wallet between the ham salad and last week's leftovers, you can rest assured that your card is still warm. And, after you've cleaned out the fridge you can turn it back on again. No harm done.
Of course, if you're absolutely certain the card is gone you also have the option to report it lost or stolen, just like the old app, and then just shoot us a message and we'll have a new card on the way faster than you can deposit a check.
Conversations
If you've ever reached out to us via web chat, the private message option in our app, or via social media on a weekend, you might know that we're not always available 24/7. Sometimes it takes us a few hours to respond. And while that might seem like a drawback in this day and age, or cause you some frustration, you should take comfort in knowing that the reason we might take time to respond is because we're real, live people behind the scenes handling your questions and problems as quickly as we know how. But we all have to sleep too, and so if you're messaging us on Facebook at 2am you might have to wait until the next morning when I can reply, or get you an answer to your question.
What's that have to do with the new app? Well, it's got a new feature called Conversations which is an improved version of our current messaging option inside our app. And on our end of the app we'll have more team members available to answer questions. We're still sleeping through the night, but it means you'll have quicker service during the day because we have more team members responding to questions on our end.
Customizable Dashboard
I love rearranging the apps on my home screen. I mean, I'm always clicking the wrong app because muscle memory is a strong thing, but it helps me to avoid the random scrolling that happens when I don't even realize I've opened the Facebook app and started to look at the feed.
But what I like about rearranging the apps is the way it allows me to put the stuff I access all the time and need to see first right up in front. And the new app will have capabilities to do some customization on your own home screen, which makes finding your balance or making a transfer quick and easy.
What's not changing?
Change can be a difficult thing, so it's important that you know some of the major functionality of our app will not change. You'll still have Bill Pay, Mobile Deposit, MoneyCentral and E-Statements available via online and mobile, they'll just look a little different. If you have biometrics on your device you can still log into the app using your pretty little mug. All you have to do to access the new stuff is download the new app when it's available next month and your muscle memory will catch up quickly. We promise.
Online & Mobile Banking Gets an Upgrade!