Back in March it was predicted that the country would see a second, and maybe third, wave of the Covid-19 pandemic. And now that we're approaching the end of 2020 it's very clear that the traditional holiday season is going to look a little different than in years past. We've rounded up a few of our favorite ideas for celebrating the season safely, and inexpensively in case you're running out of ways to mark the occasion.
Hold a holiday light scavenger hunt.
Many people traditionally go for a drive to look at Christmas lights during the holiday season, and more people than ever are getting a jump start on decorating this year. So, print off our free, Christmas Scavenger hunt checklist and make the drive a little more competitive this year. Compete within your own household, or get some friends involved and email the printable to others so you can compete against other households. Make some snacks. Facetime with other passengers. Just because you cannot have a Christmas party at home doesn't mean you cannot gather in creative ways. As always, buckle up and drive safely!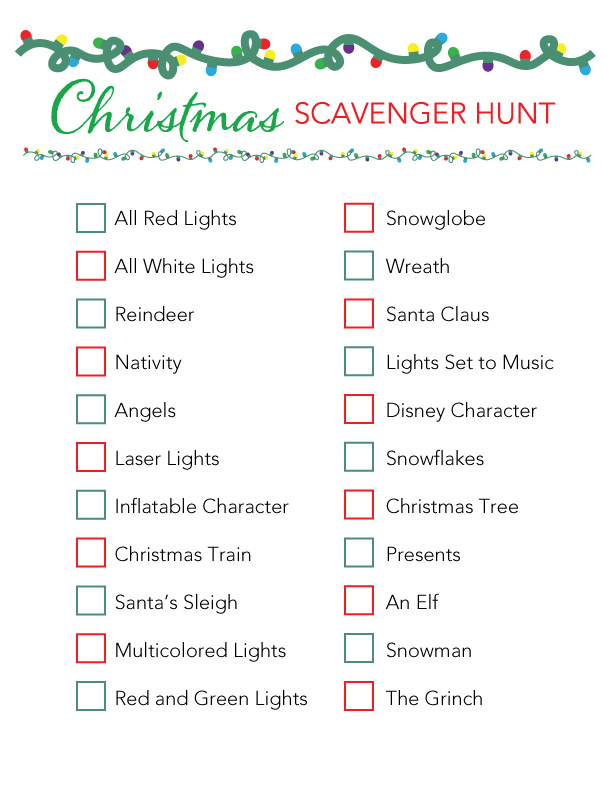 Have a holiday movie marathon.
Whether you're a fan of the classics, or newer holiday favorites, it's easy and inexpensive to watch a movie marathon on TV, or to use your favorite streaming service to spend a whole Saturday getting into the holiday spirit. Make some popcorn, build a fire, and kick back! Better yet, make a second butter-free batch and string it up to decorate the Christmas tree. All you need is a spool of thread and a needle to create a fun popcorn garland that you don't have to find space for in the storage room.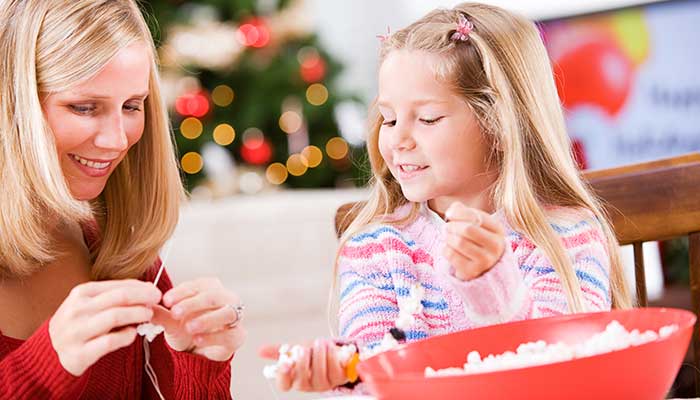 Seek out a new holiday recipe.
With fewer activities and Christmas parties to attend, it's the perfect year to carve out a little time to try a new recipe. Especially if the idea of baking always seems intimidating. Dust off the old cookbook and pick out something you'd never take the time to make during a normal, busy holiday season.
Make a gift for friends and neighbors.
Growing up we always exchanged gifts with our neighbors and the gifts were usually edible. We always had fun exchanging trays full of goodies like cookies, popcorn balls, breads and handmade candies. It was also an opportunity to stop and visit with your neighbors and wish them a happy holiday. However, exchanging food or stopping to deliver a gift to your neighbors during a pandemic could be cause for some discomfort, especially if you have neighbors with health concerns. If you're worried about straining a relationship with the neighbors consider delivering pre-packaged treats this year. Or, make a Christmas craft this year as a family and gift a hand-made ornament or porch decoration instead of edible gifts this year. Make it something you could leave hanging on the front door, or sitting on the front stoop so they have a surprise the next time they step out to look for the mail.
Consider this, if you've never exchanged gifts with your neighbors maybe dropping off a gift to those who are cooped up at home is a good opportunity to check in on those in your community. Just make sure to follow local guidelines for social distancing and mask wearing. Consider leaving a note and gift on the front porch if you're worried about exposure to the virus or how they might react.
Host a virtual Christmas party with friends and family.
Some people are virtual meeting'd out. No, that's not a word, but it is a reality that people are overwhelmed and tired of gathering via virtual meeting. However, as virus numbers across the country continue to rise, a virtual party is a safe alternative to an in-person gathering. And many of your normal holiday activities could be conducted virtually when travel is not possible. Whether you've got Grandma called in for caroling, or Cousin Eddie is teaching everyone how to fry a turkey, a virtual gathering is the ideal way to celebrate when it's tough to gather in person.
The biggest benefit to doing the holidays different this year is that it's an opportunity to save some money. Perhaps you're in need of cutting back, but when you're spending less money on travel and holiday gatherings it's easier to find ways to be more generous this holiday season. If you're not the one hurting financially, there's a good chance that someone you know is, and the best way to spread Christmas cheer is to step up and help those in need.
Celebrating the Holidays During a Pandemic