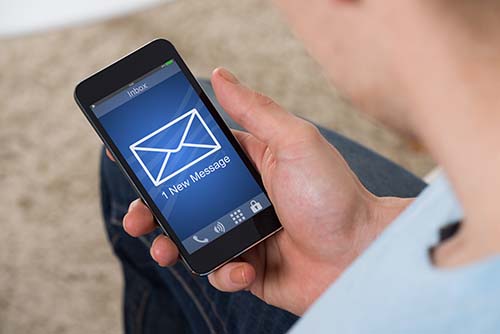 Text banking can be of the utmost importance when you least expect it. It can help you detect suspicious activity, making a disastrous situation much more manageable. To help you understand how convenient text banking could be, we'll tell you a short story to paint a better picture.
Sara considered herself a very responsible adult. She woke up every morning and checked her accounts online, kept receipts for all her purchases and rarely misplaced things. One day, Sara purchased an item online from a website that was not very secure. She did not read our blog on cybersecurity, meaning she didn't know what to look for to make sure the site was secured (you can read this blog here!) This left her card information exposed for a hacker to steal.
Days went by and nothing happened. But one day, Sara received a text message from the bank's fraud department showing a series of transactions, done over a span of a few hours, drawing the suspicion of her bank. She was very concerned, as she had not done any of these transactions, so she called the bank immediately in response to the message.
The banker she spoke with noticed all the transactions were done using her debit card number, and helped her get her card shut off and a new one ordered. The banker also encouraged Sara to come into the branch to file the transactions as fraud. Sara told them about the transaction a few days earlier from the website. The banker assured her that no further transaction could occur from the card. This eased Sara's mind, knowing that the source of the fraud had been found and the banker had canceled her card preventing further transactions from coming through.
Sara was still puzzled that the transactions had come through so quickly. The fraud happened so fast, she wasn't able to catch it! When she went to the bank to fill out the fraud paperwork, she voiced her concerns to the teller asking if there was anything else she could do to prevent this from happening again.
The teller informed her that while we can't prevent fraud, there are ways to prevent it. She told Sara about text banking. With text banking on Sara's CNB mobile app, Sara could be alerted anytime a transaction was done. She was concerned that getting that many messages would become bothersome. The teller informed her that she would not need to have every transaction sent, but she could choose what type of transactions would trigger alerts. Since a lot offraud occurs with stolen card information the teller helped Sara set up alerts for every transaction done using her debit card.
Sara also told the teller that she wakes up every morning and checks her account. The teller showed Sara that she could set up a daily balance alert so she wouldn't have to log in daily just to see her balances. Thrilled with what she learned, Sara thanked the teller for educating her on text banking and felt much more prepared to properly handle incidents of that nature if they ever happened again.
And while the text banking itself wouldn't have prevented Sara from getting the fraud, it would have helped her detect it sooner. As you can see, there are many benefits to using the text banking features. There are other alerts available in email form as well! All you have to do is log into your app to set up the text messages, or log in to your online banking on a computer to set up email alerts. Having trouble getting this set up? Contact our customer service center at 888-262-5456, or visit your local branch!
The Benefit of Using Text Banking