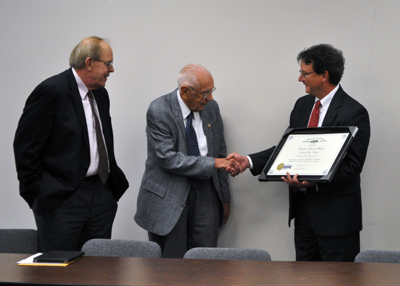 Central National Bank was presented with a framed certificate commemorating 125 years of supervision under the Office of the Comptroller of the Currency, an independent bureau in Washington D.C. which serves to regulate and supervise all national banks in the United States.
Chairman Emeritus Ed J. Rolfs accepted the certificate on behalf of the bank with his son and current C.E.O and President Ed C. Rolfs standing at his side. Emily Schrader and Keith Osborne made the formal presentation on behalf of the Office of the Comptroller of the Currency.
"Central National Bank customers can be assured that their deposits are safe and secure with our bank.  We are proud to continue our long-standing relationship with the OCC and look forward to serving our customers for the next 125 years," said Rolfs.
Central National Bank reported strong performance through the first half of 2015 and finished the second quarter with total assets of $886 million. The bank serves customers across a broad geography including 34 retail banking branches in 22 communities in Kansas and Nebraska.
"We are very proud of our long history of strength and stability for our customers," said Rolfs. "We are also pleased to have been recently named one of the top 200 Healthiest banks in the country by DepositAccounts.com. As a point of reference, this site tracks and reports health ratings for more than 7,000 banks and credit unions in the country and we have been ranked number 48. The ranking is based on an analysis of our capital strength as well as our total value of loans considered to be at risk."
Central National Bank Recognized for 125 Years as a Nationally-Chartered Bank